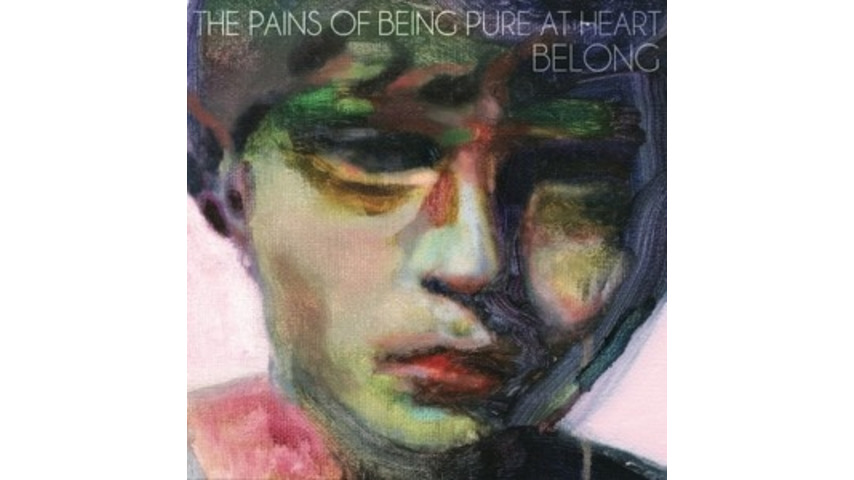 The Pains of Being Pure at Heart's first album sounded like it fell right out of the 90's. Front man Kip Berman's hushed, pondering lyrics floated over jangly guitars and lo-fi fuzz. Adorable at times, contemplative at others, the indie pop group's debut was a great success. Since then, only a few things have changed.

First, Kip Berman is now Kip Berman. The Pains have a definite front man on Belong, their second studio album. Berman's voice was an integral part of The Pains' precious sound, and his delicacy was responsible for much of their debut's success. Vocals, sunk deep into the shoegazing style, were also essential to the group's initial throwback sound. However, on Belong, Berman's vocals are clearer and more pronounced. This change could have proved costly for the band, yet, surprisingly, it wasn't. Thankfully, The Pains haven't lost their magic. They're still as cute and as shameless as they ever were.


However, the biggest change on Belong is evident in the opening seconds. Belong, the album's title track, sounds very familiar, but there is something definitely different. The Pains have never sounded this hard. Above the fuzz, there is suddenly a commanding lead guitar, fuzzed enough for My Bloody Valentine, loud enough for The Jesus and Mary Chain, yet sharp enough to really get your attention. This significant change is really symbolic of the band's progress. On The Pains' debut, their gentle shoegazing was relaxed. But now, The Pains of Being at Heart are still cute, but they're a little more aggressive about it. On Belong, they're adorable and they make sure you know it.


While there is something tantalizingly reminiscent of the past about The Pains of Being Pure at Heart's style, Belong distinctly belongs in 2011. While often Belong can evoke that 90's bliss that they have become recognized for, The Pains no longer sound like a cassette tape. The Pains are growing as a band, and are developing their own sound, freeing them from sentimental labels that could have run them into a rut. All in all, Belong is a great album that shows growth and maturity from the young shoegazers.


Tracklist:
2. Heaven's Gonna Happen Now
4. The Body
5. Anne with an E
8. Girl of 1000 Dreams
9. Too Tough
10. Strange
-Owen